Starting a Cellar Plan
Warwick Banks & Jenkins offer a bespoke cellar planning service for private collectors to build both a drinking and a value enhancing portfolio. The wines can be cellared for your future drinking, speculative purposes or for tax efficient estate planning for your children and grandchildren. The cellar is grown by monthly payments starting from a figure of your choice, in addition to the inherent annual returns in this high performing sector.
In order for you to get off to the best possible start, we suggest a larger initial investment.
The Collection – Your wine cellar will be designed around your wine preferences and long term plans. You will be given unique login details to access your online collection to view your cellar and to monitor the value creation.
The Management – We will update you when your wines are ready to drink or when we feel your wines are ready to be sold, this can be as frequent as you choose or we can agree upon a schedule at the initial planning stage.
The Payment – You decide on the level of capital per month you wish to pay into your cellar portfolio. Payment will be taken on a monthly basis via standing order which can be adjusted at any time.
The Wines – Once purchased, your wines go into your personal secure account at Seabrook Bonded Warehouse in Barking, Essex. Storage rates are invoiced annually at 0.25p per week per dozen bottles. WBJ Wine clients are fully insured under our group company policy.
The Benefits – Wine is a tangible asset owned by you. Fine Wine has out-performed many traditional investments in recent years including many Blue-Chip stocks and Gold. For drinkers, cellaring wine allows for your money to be working hard for you to fund your drinking requirements. Over a few years you can be drinking great mature wines at well below current market prices.
The Company – As an established merchant with over 25 years industry experience we are able to source the world's finest wines for you at competitive prices.
Like any collection it is essential to have a diverse portfolio and with WBJ Wine you will have access to the finest wine regions, producers and vintages.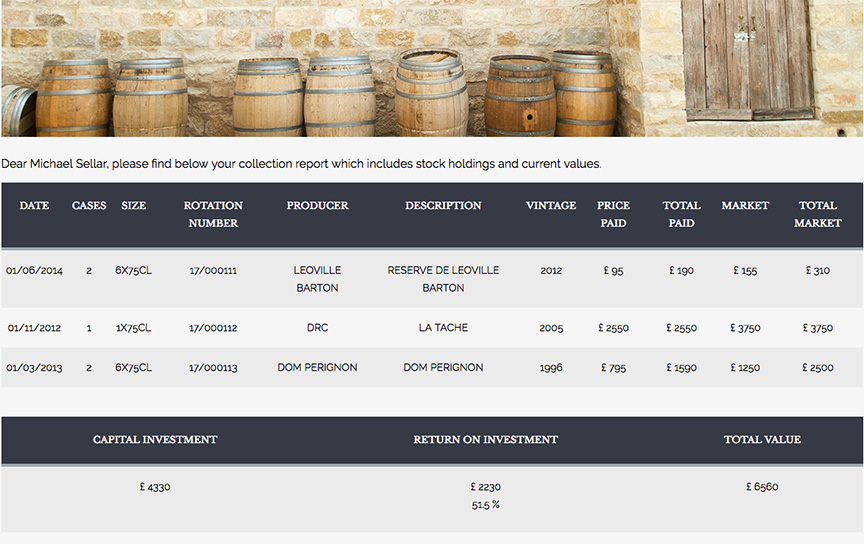 Online Login: An example of how your online portfolio would look.
Apply for a Cellar Plan: